The affiliate area is where you can log into your account and view your referral stats, generate affiliate links, and view your store credit earnings.
The Affiliate Area is divided up into multi sections:
Affiliate URLs
User this area to get your "referral URL" which you can use to link potential referrals to our website. Any potential referrals that use your link to purchase from our website will automatically have their orders associated with your affiliate account. They must make a purchase within 30 days of using your referral URL for it to automatically be attributed to you. If a referral was not attributed to your account, please contact Vigilante Marketing to get your referral associated to your account so you can earn your store credit.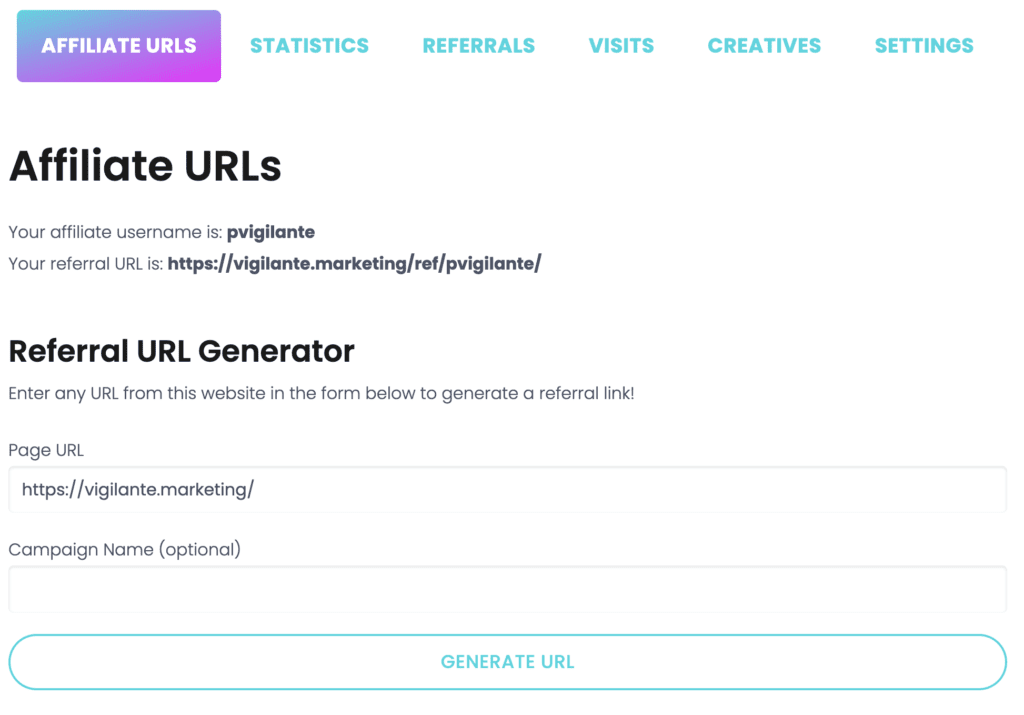 You can also affiliate a URL to a different area of the vigilante.marketing website into the Page URL field and click Generate URL, and your affiliate ID or username is automatically appended:
Statistics
Use this area to keep track of your earnings. Unpaid Referrals/Earnings are referral earnings that are still under review and cannot be used as Store Credit yet. Paid Referrals/Earnings are your approved referrals that can be used toward future purchases with Vigilante Marketing.
Referrals
You can track all the purchases made by your referrals and see when they purchased and how much you received from the referral. If you do not see a purchase from one of your referrals to Vigilante Marketing, please contact us to make sure your referral is associated with you.